HISTORY OF THE NATIONAL PALACE OF QUELUZ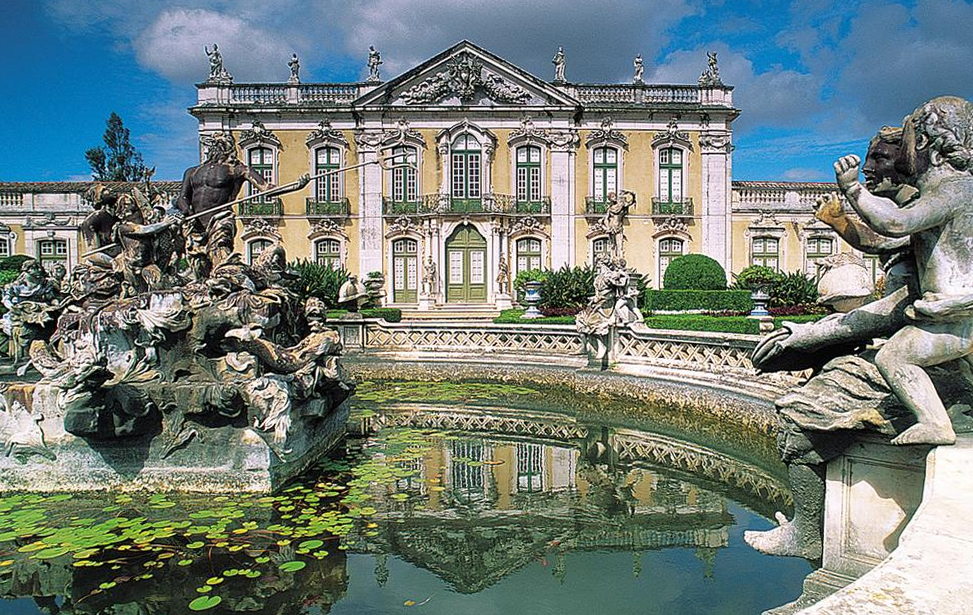 Work to adapt the existing country house into anything like a palace was carried out between 1742 to 1758 by Mateus Vicente de Oliveira, who previously worked on the palace at Mafra as an apprentice. Following the announcement of the marriage of Prince Pedro to the heir to the throne, Princess Maria, in 1760, construction entered a second and more pressing period. The architect and goldsmith Jean-Baptiste Robillion took over the daunting task of creating a more worthy home fit for royalty. It was Robillion who designed and added the throne room and a pavilion of private chambers. In 1784 Manuel Caetano de Sousa took over the responsibility of construction. He made alterations to the second floor and the private apartments.

Following the fire at the Royal Complex of Ajuda, in 1794, Queluz took over the role of official Royal residence for Queen Maria I and the Prince Regent João VI. Further upgrades to the palace to accommodate the household guards and the court took place. For the poor Queen Maria, the palace was something of a gilded cage. Ever since she became a widow and the death of her oldest son, she was prone to bouts of mania and depression. The Portuguese royal family continued to live there until their departure to Brazil in 1807, to flee Napoleon's troops as they entered Lisbon under the command of General Junot.
THE GARDENS AT QUELUZ PALACE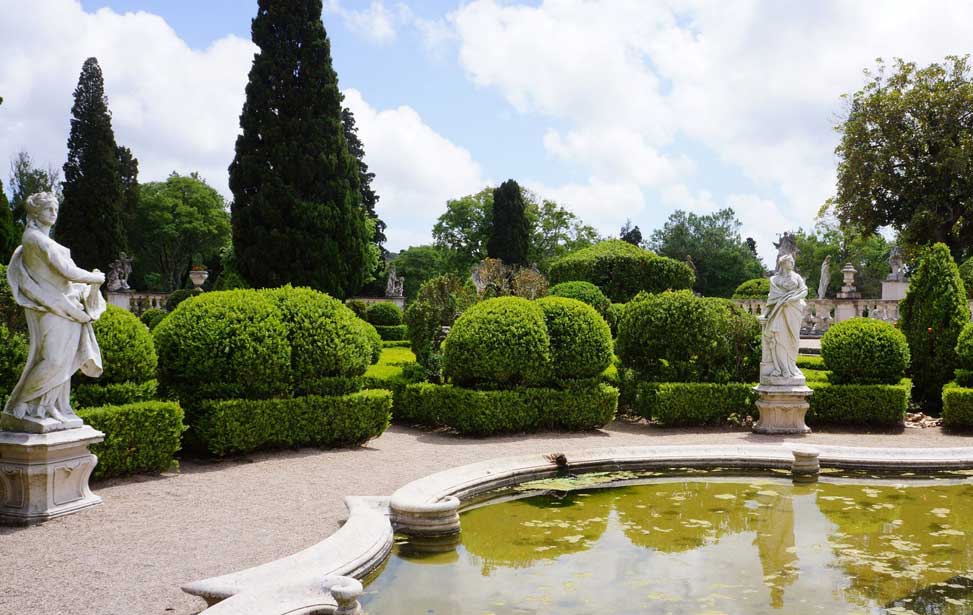 Often referred to as the "Versailles of Portugal", the gardens at Queluz are exuberant. They contain statues inspired by characters derived from classical mythology. They stand along paths laid out in various parterre gardens, such as the Hanging Garden and the Malta Garden, in an assemblage of designs. A series of avenues radiate from the main building, which, in turn, are linked to others, forming a complex geometrical grid containing lakes and water features where paths intersect. The largest water feature is the Medallions Lake created by the French architect Jean-Baptiste Robillion in 1764 and takes the form of a star-like octagon. The main feature of the principal parterre is the "Portico dos Cavalinhos", a garden temple flanked by two figurative equestrian statues and two sphinxes oddly dressed in 18th-century costume.

As well as the French style, there's an influence of Flemish design with the addition of canals. The largest of which lies at the foot of the Lion's Staircase. Over 100 metre long with walls decorated with tiled panels depicting seascapes and associated scenes. During the 18th century, the canals were the setting for festivals where fully rigged ships would sail in processions.